Opened: 1967

Original owner: Mecca Leisure

Sold to: Granada in 1977

Current Owner: Moto
Then: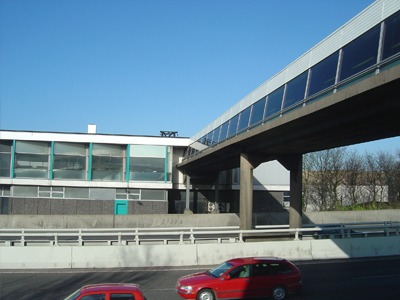 Trivia:
Originally themed as a "village", in Robin Hood/Sherrwood forest style. Restaurant area was called Sherrifs Restaurant, and another Marion's Pantry. There were lots of Heraldic decorations. Possibly inspired by themed bars at Butlins?
Featured in an episode of auf wiedersehn pet- A comedy about a group of North Eastern Builders. Any coincidence that the services name sounds like a builders tool? (trowell = trowel)
Ones named as a crime hotspot by Nottinghamshire police (link)
Originally the toilets were not accessible from inside the northbound complex, it being necessary to leave the building and move along the frontage to enter the toilet area. Recent re-development added a new frontage and additional space to a new ground floor caferia, bringing the toliet entrance well inside the complex.
The southbound site currently has a 5 Star Loo of the year Award 2003 along with 33 others in the road transport category. (find best loos overall)
Photos:
Trowell in its Mecca Village days. The shop is ahead. Now how individual could a MSA get?
The Restaurant. These are from a postcard which describes it as "The World Famous Sheriff's Restaurant at Mecca Village- Trowell – Notts.