Opened: 1973
Original owner: Forte
Current Owner: Welcome Break
Then:
Trivia:
Current: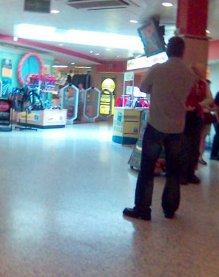 Gordano is a single site services, i.e. the one site serves both sides. It lives on a roundabout, so you have local traffic aswell.
Its quite small given the local traffic volume- but it was not frustratingly busy, however I imagine if 4 coaches rolled up at the same time it wouldn't be the best of places, but the staff cope with the peaks and dips in customers very well. On the other hand, the car park is quite large, and if you had a trailer or caravan, etc. it would be easy to get yourself parked.
Entering the building there is a small central lobby, off which are all the usual restaurant, shop, etc. Everything was clean and tidy.
If you have children, you can look at it two ways, either 1) its good as there isn't far they can wander off , or 2) there isn't anywhere you can let them go to let of steam. Didn't try the food, so can't comment on that
Overall I'd recommend this stop, provided you are not looking for tranquility and to get away from the rush!