Opened: 1963
Original owner: Toprank
Current Owner: Moto
Then:
Trivia:
New 54 Bed Travelodge built in 2001 (info)
Knutsford (town) has its own web site
Planning applications were applied for a new site at junction 22 about 14 miles north. Everyone acknowledged that the traffic levels (around 100,000 vehicles per day) was enough to justify further facilities, particularly given the long distance nature of much of that traffic and that the nearest existing services- Knutsford and Charnock Richard – were rather undersized and had no room to expand. However, the Secretary of state threw out the proposals, leaving plans in disarray
A UFO sighting near Knutsford services is described in detail on this web site- is it a UFO, or something else?
The Northbound site currently has a 5 Star Loo of the year Award 2003 along with 33 others in the road transport category. (find best loos overall)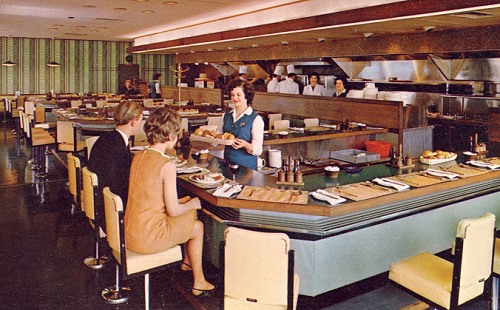 Luxury Grill Room at Knutsford whilst owned by Top Rank
Received votes and a sample of comments: (archived from old site)
People who prefer this MSA
15
People happy to visit
3
People who avoid this MSA
6
Selection of comments received
HOW LONG IS THAT DAMN SLIPROAD!!!!!!!!!! 31/08/2005 14:25:06
24/06/2006 14:50:23
The cashpoint facilities charge you even if you cancel the transaction. RIP OFF 30/09/2006 20:32:12
after working there for 3 years, id recommend you eat your tyres instead of stopping in to eat the food on offer. plus you have to pay the price of your tyres for a sandwich and a drink anyway.18/08/2007 22:33:45
My favourite services, exactly half way between London & Leeds so ideal place to stop if youre travelling the full length, love the restaurant over the mway. 23/08/2007 22:25:43
Good motel 17/05/2008 12:19:22
If the MSA staff were as active as the clampers itd be a good one. Avoid like the plague. 20/10/2008 20:24:25
I VOTE TO AVOID THE KNUTSFORD SERVICES 28/10/2008 10:41:34
Higway robbery, even your car isnt safe. Should be bulldozed. 31/05/2009 16:27:58
I prefer to avoid this MSA because of the Mince Pies. What award did they win?! 01/05/2011 15:31:47