Opened: 1966
Original owner: Ross / Motoross
Current Owner: Welcome Break
Then:
Trivia:
Originally owned and built by Ross – The same company that produces Fresh and Frozen Fish. The Ross Logo used to be on the top of the distinctive water tower.
Originally built with Restaurant on the bridge (at most services a bridge is just a bridge). The restaurant is still located on the Bridge today. It was the last service area built like this. Whilst originally they were viewed as giving a wonderful view, later thinking considered that they gave little relief from the motorway!
When it opened, it was the furthest MSA north.
Opened with a Terrance Conran designed restaurant called the Captains Table, served by waitresses dressed as sailors!
The loos currently have a 5 Star Loo of the year Award 2003 along with 33 others in the road transport category. (find best loos overall)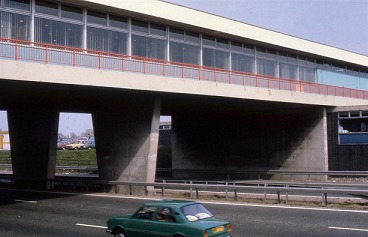 Leicester Forest in the 1981. You can see the promende which we think at one time was open to visitors. Closed early 70's though.
Bruce Crawford remembers when Leicester Forest East services was owned by Motoross. "Me and my pals used to go there for sausage egg & chips every Friday night after the pub! We would drive down the motorway (the driver sober, of course!) from Loughborough for a midnight feast – far better than kebabs, ha ha."
"It was affectionately known to us at that time as "Rosses" and in fact we all still refer to it by that name, although it has of course changed almost beyond recognition now (sadly)."
Richard Loweth recalls:
"I worked here during the time of the Grunwick Picket in the late 1970s. Twenty to thirty coach loads of Yorkshire Miners arriving in the "small hours" midway down to London. It was like bedlam!
I worked the 10.00pm to 8.00am shift as it paid a higher hourly rate…I think £1.62…and you got two half hour breaks instead of just the one on the day shifts!
There were actually FOUR restaurants at LFE. Two at either end and two on the bridge. Those on the bridge were "The Captain's Table" and also, for its day, very advanced one where you sat on a stool and eat from a long bar…like a American Diner.
Although when I actually worked there one, or maybe both (I can't now remember) of these two, on the bridge had been converted into a coffee lounge with low round tables and black leather armchairs.
After 10.00pm and until 8.00pm only one restaurant would be open. Usually that on the Northbound Side. "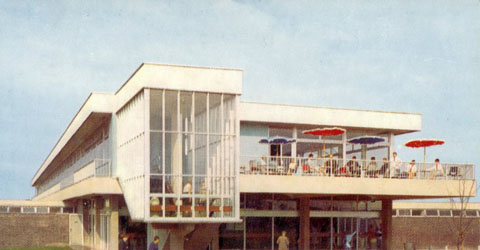 The west side of Leicester forest, with a terrace open. Don't know the date, but guessing its 60's . You can still decend the steps in this picture, virtually unchanged, and very worn! – A wonderful retro feel.
Current:
The top of the water tower now bears a KFC logo, and not Welcome Break.
These services are quite clean and have recently been modernised, but tends to be quite busy. Most food outlets are on the Bridge, so visitors from n/b and s/b share the same space.
From Mike Gayler: "There is 'talk' that if the M1 is widened to 4 lanes north of J21a, and that J21 is redevelloped (possibly including a flyover from M1 to M69) then the Leicester Forest East Service area will need to close (it's currently a hazardous exit southbound as it stands). The suggestion is that it will be replaced with the 'ghost' area at Lutterworth (near J20), which is currently a Leicestershire County Council site. There is an off-route service area at J22 as well. " – (As a foot note to this, the government has announced this widening will not take place until at least 2017!!! So Leicester Forest is safe for years yet!)
A recent revamp has put hanging lights over the tables edging the windows on the bridge. This is very much like the original lights when the services opened (although they were copper shades, not glass).
Several people ask "where was Leicester Forest West- is that an unbuilt services?" – No. The name is taken from the local area, like most MSA's. The M1 does not pass near the area known as Leicester forest West, which is a hamlet/parish with a population of 30
Thanks
Ross Bowman for the modern picture
Bruce Crawford for the 80's picture & story
Mike Gayler
Richard Loweth
Received votes and a sample of comments:(archived comments)
People who prefer this MSA
34
People happy to visit
10
People who avoid this MSA
13
Selection of comments received
Visited this MSA in 2004 and its cleanliness was terrible, since then it seems to have improved. Has recently became Moto M&S 25/06/2005 09:16:01
You can smell the history! More MSAs should retain their feel of 60s optimism. 01/12/2005 17:36:48
ive heard its all moving to Eastbound side anybody any news about that? 21/03/2006 21:47:36
visitied southbound toilets on 21/3/2006 absolutely filthy most discusting toilets i have been in . had evidentely not been properly cleaned for a long time. 24/03/2006 00:28:12
Very bizarre, I used this MSA very recently and used my debit card, nothing unusual about this you may think, but when i received my statement, it was listed as blue boar MSA, Rothersthorpe is it still officially trading as this then? 18/04/2006 21:59:23
Glorious. Building should be listed. 29/05/2006 22:42:43
24/06/2006 14:26:31
In the early days food was served on plastic plates which were charged for and could be kept by the customers 29/06/2006 18:59:29
A Biker, I rested on the grassy bank in the sunshine & fell asleep. Awoke in ducky company, with one of them attempting to hatch my crash helmet. You dont get that at Heston services! 28/09/2006 10:10:17
Roadchef have roof windows giving plenty of natural light. The staff on Costa Coffee Northbound are very friendly and efficient. You get free parking for two hours so you can relax and enjoy your break.04/10/2006 10:54:24
In Feb 05 I visited Toddington southbound on a school trip to London and I must say, I was absolutely impressed with the cleanliness there! Bloody marvellous! 06/12/2006 19:27:00
too busy, not very clean, impolite staff. ALWAYS go to killington lake instead, much nicer there12/02/2007 17:35:15
My Car couldnt have broken down at a better service station! The best one ive ever visited infact.16/02/2007 23:18:32
Always make a point of stopping here on my way to Scotland, good quality food (always do a nice breakfast) and a beautiful setting. 16/09/2007 17:12:45
Very homely and attractive buildings. The view from the coffee shop is breathtaking – to say the least! Surely, the best view from any MSA in the UK (with Tebay running a very close second)! 19/09/2007 09:38:46
the area is clean. staff leave something to be desired.toilet though clean had wet floor and there was not a wet floor sign in the area other than the one at the enterance which i noticed on the way out19/10/2007 12:44:31
Ive been on several occasions and everytime the costa coffee staff on the southbound are always nice and polite and pretty quick at making my order and it looks clean ans new. 06/01/2008 17:39:57
i think that the fee of £250 is fair, its a bit of loose change at the end of the day and i always use the designated areas were ever i go now. the c.c.t.v has good coverage alround and i always feel my cab is safe when ever i use it. 09/02/2008 17:46:39
Going southbound it makes a good Junction 14a if the exit gates are open. 17/04/2008 11:58:37
27/04/2008 18:58:11
Im another with a £50 fine – i will never use the services again. 27/05/2008 11:26:59
food over priced and cold toilets abismal 06/10/2008 16:50:59
My favourite MSA, not as good as it used to be, but still the best. Love the resraurant over the road. Hope it doesnt get demolished. 07/04/2009 17:35:52
Ive visited this service station many times now and feel i get a good service (whs north) all though the toilets do leave a bad impression but the staff always inform management for me when i mention the smell. The food is excellent for what you pay 10/04/2009 10:00:35
Cleanliness Totally Disgusting! 08/04/2010 12:13:52
I used to enjoy this site but the last visit was marred by overloud music in absolutely every area. In the gents it was painful. Wed planned to eat in the restaurant but the music there was so loud we beat a quick retreat back to the car. 08/04/2010 18:55:26
Staff very friendly and helpful. 25/07/2010 09:53:58