Opened: 1993
Original owner: Westmorland
Current Owner: Westmorland
Southbound Only (see Tebay West for northbound services)
Trivia:
The only service area to have won a Civic Trust Award
Built using natural materials and methods- limestone and reclaimed roof timbers. Views of mountains and moorland are offered.
Opened in 1993 with forecourt, shop and 300-seater restaurant and a lager spacious food servery area.
A new kitchen and a sandwich making department was built in the mid 1990's and Westmorland's food production was centralised at this site
Coffee Shop opened in 2002
Farm Shops opened in 2003 at both sites
The Coffee Shop at Tebay West has been enlarged and refurbished and renamed as "The Coffee Tree"
The company esp the Farm Shops were featured on BBC1s Country File programme a few weeks back
HRH The Prince of Wales paid an official visit to both Farm Shops and the Central Food Production Unit at Tebay East last month
Review:
Tebay is not owned by any of the big 3 chains, and that shows when you visit. And its all good. I Visited on a busy Easter Monday, and they had staff in the car park marshalling people to spaces- something I've not seen at an MSA before. It has a terraced car park, and if you wish, you can drive up to the Picnic area and enjoy your own food with beautiful Cumbrian scenery. Or you can enter the main building and enjoy a meal there. The cafe of course must resemble a cafeteria to an extent, but with natural stone and materials and a fireplace, it feels more like a country pub. Unfortunately when I visited, there was a queue outside the door for the ladies toilets (something I hadn't seen in years) although the Dynarod van round the side indicated that this was probably a temporary inconvienience.
The Farm shop is worth the stop in itself. Selling mainly local produce, it is perfect for something a little special, or as a gift.
Thanks:
Information contributed by :
Carl Ryding
See also:
Tebay West
Westmorland Entry on the Operators page
Picture: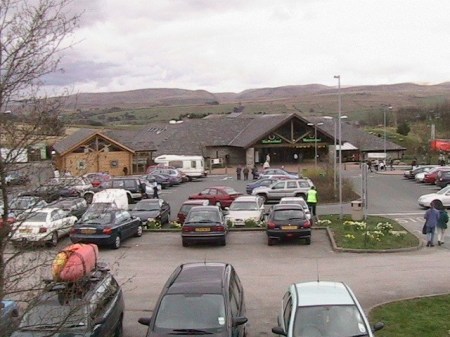 Tebay East (Southbound) – Farm shop is the building to the left. Easter 2004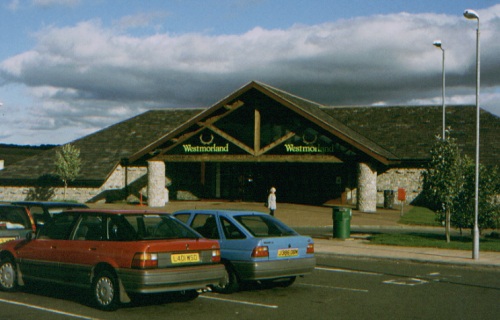 Tebay 1998 (photo by Michael Evans)
Received votes sample of comments (from our old site):
People who prefer this MSA
72
People happy to visit
13
People who avoid this MSA
16
Selection of comments received
very helpfull staff 09/07/2005 11:21:04
I havent visited any other sites – think this site is brilliant – a very clever idea for those who need help using motorways 15/07/2005 09:06:40
Is there any information anywhere about the Keele fire in 1985? 25/07/2005 20:40:12
The best breakfast on the motorway! fantastic views from restaurant and well stocked farm shop. Really different 13/09/2005 21:57:05
Good coffee, friendly staff, you can catch up with bbc news in the coffee shop and watch the traffic fly by. 13/09/2005 22:01:28
The forecourt is now Total and no longer Texaco 28/09/2005 05:20:06
On 4/10/05 my husband lost his Credit and Bank Card wallet containing all his I.D.. he wasnt aware of this until a member of the restaurant staff came over saying she recognised him from photo in wallet, this was at approx 11.45 am. Thanks 09/10/2005 15:46:38
Best services on the M1. 03/12/2005 02:05:11
an absoloutly amazing msa, best in the world 05/12/2005 18:10:44
An altogether excellent site – would recommend it 12/01/2006 17:45:26
its a good stop for trucks also 4 1/2 hrs drive (56mph) in a truck from forth road bridge 27/01/2006 12:31:11
I like this service area, but no bridge! 24/02/2006 21:47:21
Not sure about the low prices comments – stopped off there last weekend and two sandwiches plus one bottle of water was £9.50! 07/03/2006 12:58:05
This MSA has recently had a really big refurbishment, I didnt recognise the place. It looks lovely, You should update your photos to show this 14/03/2006 12:25:59
Best services in the country bar none 12/04/2006 23:12:04
Free parking but dirty cutlery in the restaraunt. 09/07/2006 21:16:43
Just like Tebay East, has a great farm shop, great location and views. Lets you forget youre on a Motorway journey. 29/09/2006 12:29:49
My favorite since I was a child in the 60 s so sophistocated the dawning of modernism 20/11/2006 12:18:22
Small and gloomy. If possible, I press on to Trowell or Woodall instead. 18/12/2006 01:57:08
Wonderful Place 05/01/2007 10:54:40
stayed here for 2 nights, lovely rooms very clean. Most of the staff are very friendly. 26/06/2007 15:17:37
Did you know, J.38 truckstop, just off the M6 at Tebay celebrated a £500k refurbishment in May 2007? The cafe has a new look and parking has been improved with the addition of security barriers, and folloing shortly will be more lighting and CCTV. 06/07/2007 10:48:00
A dump westbound, and locked up eastbound overnight. 15/07/2007 14:43:23
But toilets desperately need a refurb 22/08/2007 20:23:13
The first aid gentleman was absolutely first class when I needed urgent attention on 24th August for a broken nose after a fall. He showed great understanding. edna gascoyne 26/08/2007 13:53:31
expensive…. 01/09/2007 19:13:26
I find thos particuar service station particularly grim 15/09/2007 23:39:18
This is a stop to be avoided at all costs! Expensive and couldnt-care-less attitude from staff 16/09/2007 18:21:56
To the commentor who complained about no information on the snow storms, i work at this MSA and believe me when i say we also get NO information, same with traffic information. 18/09/2007 00:05:40
Fond memories of this unique place 25/11/2007 23:04:19
Lovely scenery, well worth a visit when the weather is warmer as the outdoor picnic area is very relaxing 04/04/2008 12:14:54
I now avoid this MSA like the plague. It always seems busy with coaches and consequently queuing for up to 30 minutes for something to eat is not unusual in my experience. 27/04/2008 11:02:28
27/04/2008 18:54:50
Its not like any other MSA!! 11/06/2009 11:28:29
Excellent 25/09/2009 13:25:24