Opened: 2004
Original owner: RoadChef
Trivia:
The newest Motorway Service station (!)
Is a one site services, eg. traffic heading in both directions uses the same building, and it would be possible to do a u-turn and head back the other way if you wanted. You'll still pay a toll though!
Has a conference centre, and a fantastic water feature outside.
Offers table service after 6pm, almost a return to the early days of Service areas when Waitress service was the norm.
Dining takes place in a large open plan and airy seating area, after you have chosen what you wish to eat. The On Route Restaurant will cook your food in front of you. Costa was having difficulty with new staff when I visited, causing a bit of a delay whilst they tried to train up new staff, and serving slopped coffee- although this was after 3 attempts- they couldn't master the nack of getting the coffee out of the machine without it going everywhere, so in the end gave up and appologised.
It was surprisingly busy- many people wonder why you would pay to go on the toll to save time then stop, but for some, that extra time means more time spent having a break, and its one of the nicest places to stop. However, the lavatories, despite the full time attendant looked like they had seen 3 years traffic, not 6 months.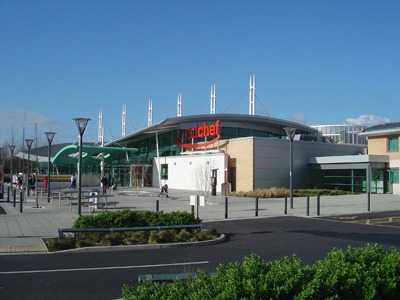 Thanks
Ross Bowman for these nicer pictures
Received votes so far and a sample of comments:
People who prefer this MSA
22
People happy to visit
8
People who avoid this MSA
13
Selection of comments received
HAS HAD A TOILET EXTENSION AND NEW SHOP ADDED. A LOT BETTER THAN BEFORE. HAD A GOOD ROAST HERE! 09/09/2005 19:51:05
The best place I know to stop on UK motorways. Excellent restaurant with home cooked food and beautiful views, no piped music. Great stopping place for anybody with dogs, plenty of space to walk them. Clean loos . The Farm shops are great 02/11/2005 14:35:24
RoadChef need a gold star. My wife wont stop at anything other than a RoadChef. This one is utterly F.A.B. 08/11/2005 11:23:08
Customer service counts for nothing if your facilities arent up to scratch! 10/12/2005 16:57:35
Was about to purchase a sandwich and portion of chips for just £3, but a friendly attendant pointed out a special deal that would let me get it for £1.99, very impressed! 23/01/2006 17:51:52
Toilets are extremely clean and tidy. Most of the staff will do anything for you. Overall i would give Southwaite 9 out of 10. Well done 23/01/2006 20:37:01
01/02/2006 11:46:32
Trust me this MSA will be no more within 18 months, new GM just appointed…. 15/02/2006 18:41:15
Sometimes drive to it for a snack on summer evening drives rather than motorway stop off. Very pleasant atmosphere. 12/03/2006 20:19:28
Architecture wise, it is unbeatable. Looks so distinctive, really should be looked after more though.24/03/2006 14:57:05
19/06/2006 11:46:32
i found the staff at the wimpy quite simply rude with terrible customer service skills 03/08/2006 09:29:17
05/01/2007 10:55:10
slow service as only one person serving in busy coffee primo south side 23/01/2007 19:23:53
This service station unlawfully discriminates against some coach drivers. Fire exit once blocked by chairs by management to stop people cutting through when doors left open for air. Hand dryers rarely work. Food often sitting for hours. 22/06/2007 03:03:52
e across, as a coach driver i have (along with many others) stopped taking my pass 16/10/2007 14:56:22
Favourite service station by a mile – easily beats the over-rated Tebay 23/05/2008 23:53:45