Lost MSA's
"Lost" Motorway Services
(Or ghost services, or Ghost slips etc.etc.)

The Chigwell Services on the M11. If only it had been built. Instead the land is there, but not much else (click for multimap aerial photo). Chigwell southbound is currently a holding area for lorries involved in constructing the London Olympic venues
Here are motorway services areas where either the space was reserved by the Government, or application for development of an area has been deposited with the authorities. Some of these went to public enquiry. Applications must demonstrate a need for services under current rules- but can only regard expected traffic predictions for the next 5 years. For more information on how MSA sites are/were decided see the General page
During early Motorway builds, space was reserved about every 12-15 miles for a service area. Later the policy shifted to having less frequent but larger services at 30 mile intervals. So on some older motorways you can see some "stubs" still on the main route, so as you drive past, it looks like there is a junction to nothing.
M5: Moreton Valence Services: between J12 & J13 (multimap link)
M5: Just south of J10 (Multimap Link)
M6 J1-2 : Harborough Magna – (slips are clearly visible, although the adjacent land is much lower than the road. also very closer to Corley.
M6 J13-14 : at Doxey
M6 J23-24 :
M11 J3-4 : Chigwell services: Area clearly visible- in use as a Works Unit. Police Control also built on Northbound site in abt 1992. Might have been developed had the M11 been completed to J1 in London
M3 J6-7 : Slips clearly visible, although housing recently built on east bound side. New Roadchef built further west instead.
Documented inquires and discussions regarding provision of services:
M4 Maidenhead area (public inquiry) (1)
M6 between J6/7 Perry Barr Services (never developed, turned into a works unit and is now home to the police control and highways agency) Multimap photo
1997A1(M) North Yorkshire (public inquiry) (1)
1997: M25 Junctions 15-16 (Elk Meadows) (public inquiry) . (1)
1997: Redbourne on the M1 between Junctions 8 and 9.(Elk Meadows) (1)
2001: Warren Farm M25 (Chalfont St Peter / Denham) (withdrawn before public inquiry- would affected a mineral site.)
2002: Mount Hill Farm M40 (on land between J1A to J2 at Hedgerley) (Public Inquiry) (Refused)(2)
2002: Burtley Wood M40 (land adjoining J2 at Beaconsfield) (Public Inquiry) (2)
2003: Great Wood, near Waltham St Lawrence M4 (Refused by council, gone to inquiry) (3)
2003: M4 Junction 8/9, near Holyport. (refused by council,gone to inquiry)(3)
Following all mentioned as proposals in Central or Local Government papers, or identified by authorities as possible "fill in" sites (if proposals then they were probably turned down):
M1 J19-20 : Slips visible
M1 at Lutterworth
M4: at Datchet, Ashes Copse, Ballards Ash, and Pucklechurch all mentioned in Government documents
M5: Willand, Kingston, Seymour, Primsland
M6: Harborough Magna, Doxey, Newton Le Willows, Hunton East, Clifton, and Eskrigg
M20: Crowhurst Lane, Charing and Stanford
M42: Austrey Meadows, Blackfirs
M40: Chesterton
M11 Chigwell : The M11 was never built all the way into London as planned so these services were never developed. They do however contain a works centre, and in 1993 a police motorway control center was built here. The bridge just north of the "services" is used to get from one side to the other. The land reserved on the southbound side was levelled and tarmaced and is now a holding area for lorries delivering materials for the construction of the London Olympics.
Eddy Rhead wrote in recalling "I remember in the late 80's that a business man from Walsall wanted to open a Balti Service Station on the M6 to fill the gap between Hilton Park and Corley. How brilliant would that have been? – instead of over priced ginsters and mega bags of walkers you could pick up an Aloo Gobi at 3 in the morning."
M1 J35 – There have long been plans for an infill site between Wooley Edge and Woodhall, near Junction 35 (Thorpe Hesley). These were originally submitted in 1999 by Roadchef. The council didn't like the idea and objected on the basis of the proximity of Wooley Edge and Woodhall, and also that it would be located in Green Belt land. It also would have meant the destruction of about 2 hectares of ancient woodland. After much to-ing and fro-ing, the appeal against planning refusal has been withdrawn and that seems to have killed the plans for a MSA at this site. For the time being!
M5 J11a – An application for a new MSA adjacent to J11A has been thrown out as it would affect the greenbelt area (more)
M11 Duxford – Several applications in the past. The most recent, if built would mean the end of flights at the Imperial War Museum at Duxford. See the web log for more details
Carl Jones writes:
"There is a huge piece of abandoned land on the M18 which must have been for a motorway service station. If you have access to Google earth and enter Hatfield in South Yorkshire you can find in very easily. "
M27 J9 on M27- J9 was to have been for a later service area, with unusually long access road. Ghost slips also visible. The mile long access road now connects to local roads making a junction 9.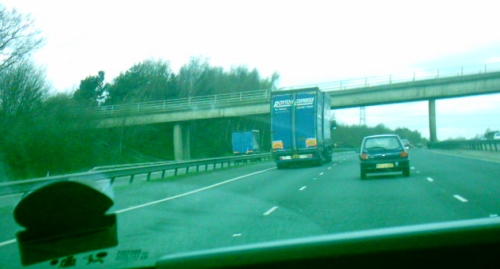 The long slips at M27 J9. Thanks to Johnny for the photo.
Found!
M56: Hapsford we used to list this at lost but Robert Hill Writes: "Hapsford on the M56 is listed as a 'lost' service area.  It isn't lost, it exists, at J14, but is now known as Chester.
By the time it was converted from a rest area to a proper MSA circa  1998, the earlier tendency to name sites after the nearest village had  given way to the current tendency to name them after a town that  people might have heard of."
Still on the table:
M25 Cobham – Still going through inquires proposals etc since 1995.
References:
(1) House of commons Written Answers from Secretary of State for the Environment, Transport and the Regions
(2) Bucks CC
(3) Windsor and maidenhead council