Opened: 1977
Original owner:
Current Owner: Moto
Then:
Trivia:
Malcolm Surl writes:
"The coach park was originally designed so that entrance was on the north
(industrial estate) side and exit on the south (motorway) side with coaches
parking facing the services. The north entrance was barriered off at least
ten years ago in an effort to stop HGV's from mis-using the coach park.
Hence, until this Summer's re-vamp, coaches had to straddle both lanes and
make a very awkward right turn to enter via the old south side exit, park
facing away from the building and dice with death to exit via a slip on the
east side – dice with death as the angle of the slip meant that other
exiting traffic, which had priority, was in the blind spot of ordinary
mirrors.
Did it work ? No. The tightness of the entrance turn made it most difficult
for coaches – which have a fixed wheelbase – whereas artics got in with
relative ease !"
Current:
Exeter is a single site services, i.e. the one site serves both sides. It lives on a roundabout, so you have local traffic aswell+ A30/A303 traffic. There is ample parking, although in busy periods everyone tries to pile round the nearest spaces on entry. If you drive on past the services, you'll soon find spaces!. At peak times, the ladies loo can develop a queue. Becuase of its position at the gateway to the West Country, Summer Saturday are always busy with people travelling to or from Devon and Cornwall. Having said that- there was still room to sit and eat or you could drink coffee on the many sofas. (it has possibly the largest assembly of sofas in any MSA!) The photo below is a busy saturday.
Sept 07:
Malcolm Surl: "In common with many Moto services, a Marks & Spencer outlet
was added about 18 months ago and this was slightly enlarged and re-facaded
during early Summer 2007. Also, the Moto Shop (shown in photo) was
transferred to operation by W H Smith earlier this year."
"Exeter is an important pick-up, drop off and changeover point for coaches as
well as 'loo stop' since there are no more loos open of an evening on 4hr
plus journeys to Cornwall via Plymouth. How thoughtful, then, of Moto to
choose mid-Summer 2007 to close the coach park completely for re-vamping !
Coaches had to park where they could in amongst the HGV's and caravans so
that passengers had not only to thread their way between manoeuvring trucks
and caravans but also cross the main car exit road on a bend to reach the
entrance. The revised coach park opened in mid August and the jury is still
out about whether or not it is an overall improvement meanwhile the major
beneficiary has been …. Taunton Deane Services !"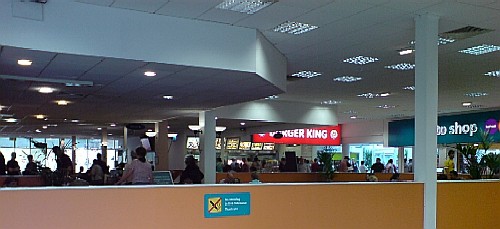 Thanks
Malcolm Surl