Opened: 1972
Original owner: Forte
Current Owner: Welcome Break
Then:
Trivia:
Bridge was built by Government with the motorway before development, was clad in fibreglass paneling to match the main buildings.
First Motorway Service Station to have a permanent Police Community Support Officer (more)
In 2001 received 2 stars from Egon Ronay, who in the previous year had dismissed all motorway food as "rubbish". Only 5 MSA's gained a two star award from Mr Ronay.
In 1989, a lorry containing explosives broke down nearby and was moved to the service area to await repair, attended to by a fire engine. One side of the services was closed until the vehicle was repaired.
Has approximately 2 million Visitors per year
Current:
Pictures: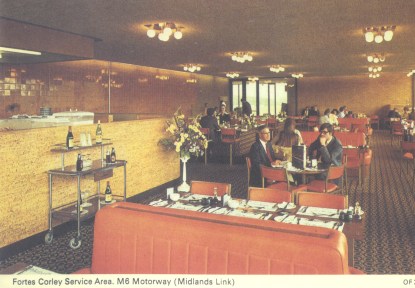 Above- the dinning room, below, the shop (a lot smaller those days)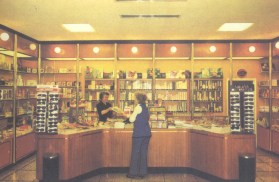 Below, the entrance today. Look carefully and you may spot credit card sales people hiding behind the bush….. To the right of the entrance, a coffee bar.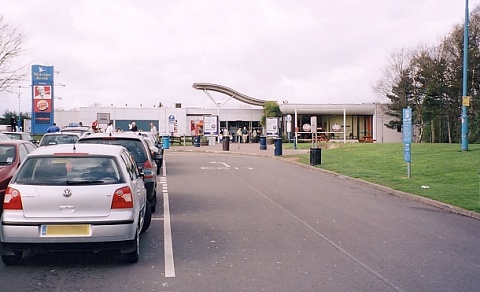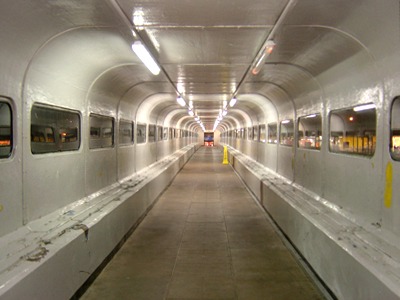 The bridge. You can wee where the fibre glass tube was added onto the governments concrete. It used to be an orangy yellow. Ross Bowman suggests it was made in the same way as a railway carriage – possibly
contemporary to the Intercity 125 – early 1970s style.
Thanks
Ross Bowman
Received votes and a sample of comments:(Archived from old site)
People who prefer this MSA
18
People happy to visit
7
People who avoid this MSA
10
Selection of comments received
caravan site excellant 11/08/2005 16:58:00
poor bewilderd staff dont know if they are coming or if they have been ? 25/11/2005 20:32:54
Great place..excellent staff and food 21/12/2005 12:16:25
Stopped there a few days ago, costa coffe was the best i have been to, It was busy but the staff was really good at moving the Que. 24/03/2006 01:08:13
Called in this morning for a pee and a Costa Coffee. Sign in the gents announced pay and display and wheel clamping, so I skipped the coffee and carried on with my journey without coffee. What a funny way to run an MSA! 25/03/2006 21:20:30
24/06/2006 14:44:36
Tibshelf Wimpy poisoned my friend 29/07/2006 16:53:28
they are now clamping anyone how parks in the coach area and charging £250 relese fee the clampers are supposed to ask drivers to move then camp if they are still there but instead they hide in the car park till the driver leaves his cab then clamp 17/05/2007 21:11:56
coffee is b awful and food limited 18/10/2007 17:57:05
THE LAST TIME I ATE AT KFC I ENDED UP WITH FOOD POISNING WILL NEVER EAT THERE AGAIN PLUS TELL MY HGV DRIVER FREINDS TO STAY CLEAR 01/01/2008 02:05:15