Opened: 1978?
Original owner: Blue Boar
Current Owner: Roadchef
Original Name: Rothersthorpe
Then:
Originally named Rothersthorpe
For many years a Truck-only stop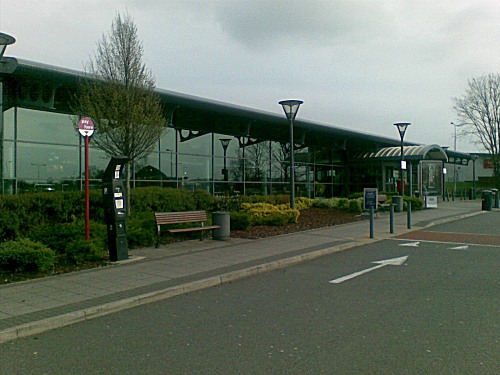 Northampton Services Southbound, 2008. Honest I haven't just used a Norton Cannes picture, theres no fountains.
Trivia:
In the old building (now demolished) crossing the footbridge would lead directly into the MSA building.
Offline-ish services- the site is accessable from the A43 without touching the M1. The M1 slip for the services is shared with the A43 slip. (multimap)
If you buy food here on a credit card, your bill will read BLUE BOAR MSA – a touch of its past!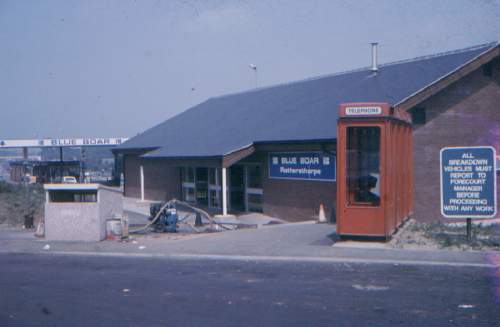 Blue Boar – Rothersthorpe under construction. This building has been demolished, as it was rather too small to cope with growing demand on the road, and the authorities preferred to see this site re-developed rather than build another infill site.
Current:
Rebuilt in 2002 and the footbridge is now no longer usable.
The design is almost exactly the same asNorton Canes, if you are inside it could be hard to tell which you were in. Its a pleasant stop, light and airy, Costa Coffee a little a slow as normal.
2008 – Several peak time stops here have found the place empty- see below. Food was ok, although a little on the cooler side for something cooked to order. Certainly can't complain about queues!
Free Wi-fi! Woo hoo!



Rush hour at Northampton.
Received votes and a sample of comments:(archived from old site)
People who prefer this MSA
13
People happy to visit
15
People who avoid this MSA
7
Selection of comments received
Finmding it a very expensive MSA; may have to revise prefered stopping places. 18/11/2005 16:00:08
Its ok for a cuppa 19/04/2006 10:29:10
24/06/2006 14:21:27
The worlds best MSA in my opinion! 22/09/2006 17:22:44
As a truck driver i use this if passing as opposed to a msa. Lymm truckstop is not an MSA as some quote and when there is a Q of people in the restaurant(e.g.coaches) truckers are allowed to jump the Q. 04/03/2007 17:03:57
Poor choice of food. Expensive food and fuel. 26/03/2007 21:57:20
good but service bad late at night 09/04/2007 22:15:21
Dirty and the food made both my wife and myself ill. Should carry a government health warning.10/07/2007 19:49:11
27/04/2008 18:57:03
Very good MSA 13/05/2008 19:16:34
This was known as the Blue Boar Back in the sixties, about the only one on the M1 when my band used to thrash up and down from London to the North. All sorts of Musos would meet at odd hours over a congealed fry-up 23/06/2009 19:11:47
Service at Costa was not great – long wait in the queue and the staff chatted away to each other in Polish but barely spoke to the customer. 20/07/2009 19:53:08
Not nearly as good as Cherwell had been prior to its sad demise through fire earlier this year25/08/2010 15:19:46
Stopped here for breakfast on the way back from Nottingham to London today. Expensive, but not exhorbitant – what you expect from a service station. Traditional breakfast was small but hot, and cuppa was very welcome. No major complaints! 29/10/2010 16:05:53
Expensive breakfast. £9 for small coffee and very basic cooked breakfast 17/12/2010 16:28:32
Very dirty, the people are not friendly. The employees in the burger bar were not wearing the right nametags on their uniforms, there was definitely something suspicious going on there and Im not inlcuding the badly made food. 12/05/2011 12:08:35