Opened: 1965
Original owner: Granada
Current Owner: Moto
Then:
Trivia:
Granada's First Site. Granada, up until then were a cinema chain, ITV contractors for the north west, and a bingo Hall chain.
The security staff were dressed with Robin Hood Hats when the site opened.
For a period, housed the groups offices (previously they had been at Heston services on the M4)
This site was used by Granada to experiment with Self-Service restaurants at MSA's. Obviously successful!
Both sites currently has a 5 Star Loo of the year Award 2003 along with 33 others in the road transport category. (find best loos overall)
The Travel lodge at Toddington was the first to offer 3 hour "power naps" for 5 pounds, including coffee. It was an attempt to offer some rest for tired travellers in conjuntion with the department of transport. We believe the scheme has been discontinued. (link)
In 1978 a Government report stated that Toddington had the largest restarant seating capacity of all MSAs -if you count public and transport (i.e. Lorry/coach drivers) seating together. Aust had the largest public restaurant seating
Current:
Has Harry Ramsdens, Little Chef, Burger King, Fresh Express (cafe), Upper Crust and a Nescafe Coffee shop. Northbound has the first Marks and Spencers food outlet on a MSA- quite large, all to-go products.
For non-food items, you'll find a typical shop, T2 (phone accessories) (northbound is just a cabinet in the shop, southbound is a full shop), Birthdays Card, Thorntons (southbound)
Southbound site has a Hairdressers (reasonably priced too, 9 pounds a cut) – You don't find many of these about (there is another at Leigh Delamere )(although not the first, some MSA's in the 60's had hairdressers.)
Larger than average parking area for lorries.
Apr 2003; northbound was being re-painted and new landscaping being placed outside.
Fuel is by BP, Hotel by Travel Lodge
Photos:
2004, Southbound site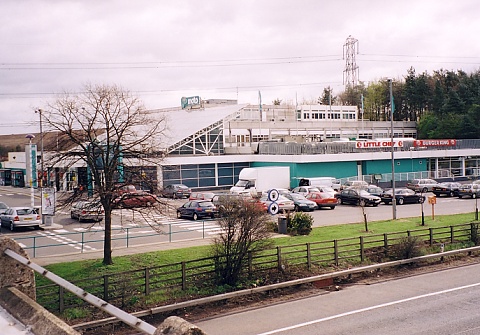 Received votes and a sample of comments:(archived from old site)
People who prefer this MSA
18
People happy to visit
8
People who avoid this MSA
7
Selection of comments received
29/05/2005 12:32:28
Very good – however, would have liked to know what junction the services at Watford Gap are at.15/07/2005 09:08:11
I always hold my bladder, hunger and make my petrol last for Westmorland, always a pleasure to use and such great scenery too! 28/09/2005 05:16:41
Possibly the worst MSA I have ever stopped at. 20/11/2005 22:00:31
I found and do find it a lovely place to stop, its clean and the staff are very friendly 28/02/2006 15:24:54
24/06/2006 14:19:25
I think the tower *is* a listed building. Apparently designed to look like a air traffic control tower, because package holidays were just starting to get fashionable. 30/06/2006 11:35:50
stopped there today westbound is closed but eatbound is looking really good..fab new toilets…brand new shop with coffee nation…think Burtonwood is guna be a top services in the near future….staff are fantastic as usuall especially in the shop.. 27/11/2006 00:20:54
In Jul 05 I visited Watford Gap at approx. 1:30am on a school trip to France – after visiting the loo, I noticed that the 18+ arcade had a change machine – and nothing else! (probably because it was the early hours of the morning) 06/12/2006 19:33:18
Outstanding Service Station for all members fo the family. We always make a point ot stop here rather than MSA before or after when we travel to Scotland. Not stopped? then please do make the effort with either North of South. 17/01/2007 18:35:56
i do like Donington Park services although its a bit noisy with the planes overhead 09/04/2007 08:44:06
Visited for 1st time, and I must say this is the cream of MSAs, staff veryt nice and the wonderfull views made it a relaxing stop. The Farm shop is magnificent 27/04/2007 10:30:29
nice location good facilities when making a stop on a long journey 15/05/2007 10:36:34
The KFC at this service station is excellet all staff and managers are always smiling! 08/08/2007 18:42:28
I took quite a fun photo of Forton this morning. I love the place! http://www.flickr.com/photos/twentyhertz/1313676152/ 03/09/2007 19:16:40
Northbound Eat In, very friendly & courteous staff, an extensive range of hot and cold foods availablke. Very impressed 17/01/2008 10:34:18
Very good parent and child facilities. Actually has a loo in the baby changing room so mum gets to go too! 23/10/2008 20:13:54
You are invited to pull in and take a rest but beware if you stay over 2 hours youll get a letter through the post aggressively demanding a parking fine of £60 14/05/2009 12:45:29
Good MSA, and the first one you come across if you join the M25 in the busy Surrey section and head up the M1, probably why its so popular. 24/06/2009 09:02:13
Parking charges suck …….. Spend your money in the services and then pay an extra £80 for the privalidge I will not be going there again! 27/07/2009 13:54:28
The MSA I have known longest, (jointly with Newport Pagnell Welcome Break) . I used to love the upstairs restaurant on the southbound side- was disappointed when they no longer had it there after the refurb. Dave, Sheffield 25/12/2009 22:35:34