Opened: 1963
Original owner: Forte
Current Owner: Welcome Break
Location: J27-28
Trivia:
The First Motorway Service Area to open on the M6
One of the few services with a bridge restaurant
A Government study in 2000 found that traffic after J26 eased in volume, but the pressure on the road was immence and that the stretch of the M6 that includes the M6 is a black spot for accidents.
1997 Guiness book of records records the "worst UK traffic Jam" (in terms of volume) on April 17 1987 which ran between Charnock Richard and Carnforth involving about 200,000 people in 50,000 vehicles.
Do you agree with this Amazon.co.uk review comparing Starsailor and Charnock Richard?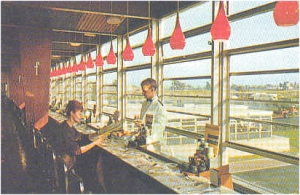 When Charnock richard opened in 1963 the bridge restaurant was Waiter Service. Now this area is communal eating with "quick service" restaurants at either end of the bridge, so its still possible to enjoy the road while eating.
The "coppull car muncher" resides at Charnock Richard. Many locals have used the secret exit to gain access too and from the motorway. This is illegal access that the services should prevent. So they have installed some rising bollards, which apparently have ruined a few cars. This web site has photos, and a tally of the damaged caused (32 cars as of March 2006) (front page, right column)
Recently, added a Smoking area outside, heated by Patio Heaters. As these cost a fortune to run, and most companies are now trying to reduce energy costs, seems a paradox. Maybe its only until smokers are used to being thrown out in the cold! 🙂
Thanks:
dmode: The "coppull car muncher"
Received votes so far and a sample of comments:
People who prefer this MSA
31
People happy to visit
5
People who avoid this MSA
13
Selection of comments received
We used to go here after closing for chips and egg and a few games of pinball back in the mid 80s until we were told about a now lost gem of Bobs cafe on the A45 at the Fosse roundabout…. open all hours and quarter the price ! Paul, Northampton. 05/06/2005 18:32:32
Visited on a very busy summer weekend. Staff were run off their feet but were extremely attentive and polite. Well presented with nice touches like the local meat on offer and Beutiful hanging baskets and flower displays – Im very jealous!! 09/09/2005 19:39:59
The staff have never really seemed as if they wanted to get out of bed that day! Im so sorry for disturbing them and wanting to be a customer! 13/09/2005 22:05:59
Brilliantly sited just a mile before the westbound toll plaza- so handy for gettting change or cash. A nice open, airy building too, not cramped and crowded like many service stations. 01/11/2005 17:42:25
it is great for long days drive 17/11/2005 14:55:38
Got a rave review in the Saturday Guardian restaurant reviews in 2005 (the short reviews in the Guide).02/12/2005 14:12:59
poorly organised 21/01/2006 20:53:08
I challenge the Customer Service comment. Customer Service means not forcing you out in the cold when youre trying to warm up before heading across the Irish Sea early in the morning.. 16/02/2006 18:40:34
Tebay is great.Very clean.Watching the ducks is very therapeutic and takes your mind off having paid £5.00 for a piece of fruit. 24/02/2006 19:38:32
3 years ago I reported this MSA to Daventry Environmental Health 11/04/2006 09:16:17
24/06/2006 14:43:39
Not a nice place. Shows its age 29/09/2006 12:37:47
Oh I do like the new windows, double glazed at last, but will it make people want to part with their cash, I think NOT! 23/10/2006 07:35:12
The Forton tower is regarded by the company as a listed building. It cant be reopened due to worries of asbestos and it is regarded as being too expensive to repair. Currently it stands empty. 21/01/2007 15:44:09
Good food, nice surrounding and friendly staff. As a regular user of MSAs I rate this one of the best10/07/2007 19:51:23
12/08/2007 20:09:21
We (11month daughter/Wife/Myself) ravelled from Plymouth to St Helens, what a dump, we could not, wash, go to the toilet or eat, DISGUSTING DISGUSTING DISGUSTING DISGUSTING DISGUSTING DISGUSTING DISGUSTING DISGUSTING DISGUSTING DISGUSTING 24/09/2007 08:38:12
LOVE IT 20/10/2007 22:19:55
Looks like there is number plate recognition system in place as you drive in and out of parking area, it times your stay and as a result issues a parking fine of £50 if you overstay the 2 hr limit!!!!! Beware22/12/2007 15:11:33
Spend weekend there. Absolutely lovely. 23/02/2008 10:35:41
I like southwaite. Northbound is a nice large quiet carpark, and theres not much faffing about getting to/from the m/way – good layout 01/05/2008 01:14:45
17/05/2008 12:25:43
disgusting service area. toilets were filthy. unable to wash hands as the water was very, very, very hot – they told you this with a note above each tap but this wasnt exactly any use when your needing to wash your 4 year-olds hands now is it? 27/05/2009 08:54:03
i stop at Charnock Richard Services and i was quite satisfied with the clean toliets but a bit expensive to eat and drink. 24/03/2010 15:29:01
low life festering scum frequent this place to steal 13/03/2011 12:59:01