Opened: 1 November 1963
Original owner: Top Rank
Latter owner: Pavillion
Current Owner: Moto (formerly Granada)
Name Change : Medway (since 1992)
Then: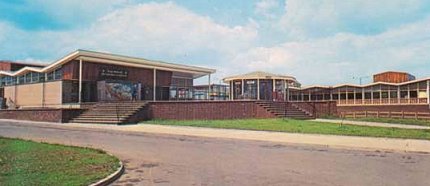 The Rotunda is now no longer in use but still present. As you can see, the front entrance has also been extended and is now clad to give a more modern look. Trees and advertising boards now obstruct the view of the opposite side.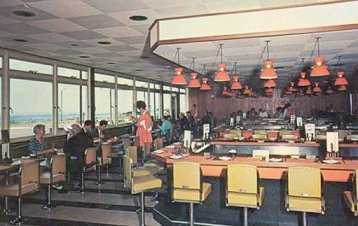 The bridge restaurant. Waitress service.
Trivia:
Thus far the first MSA i've seen with fresh cut flowers in the mens toilets (on display, not sale).
Has a bridge restaurant- you can enjoy your lunch watching the road (but there is seating elsewhere if you want to get away from it!)
The only services on the M2 (but the M2 is only 25 miles long anyway)
Original name (Farthing Corner) is derived like most MSA from the nearest village, the name change to Medway, represents the M2's role as the Medway towns by-pass
Apparently, the bridge which was part of the structure of the complex, was open, not covered. You can see this in the "old and now" photos above
Current:
Another set of services that has seen a decline in traffic, and like Aust on the M4, it is due to another motorway. For many years, the A2-M2-A2 route was the main route for Dover from London, and Farthing Corner was the only stop off point on the M2 (although the A2 offered and still offers many roadside cafe's )
However, the M20 now takes a lot of the London to Dover traffic as the motorway is longer and more direct. So Farthing Corner has had a mixed life, seeing a huge build up in traffic, bulging beyond capacity, then a decline in traffic, after the M20 opened. However, it has adapted with the times, and it is quite a pleasant place to stop, due to the work of the staff there, as the surroundings offer nothing- no scenery just a line of trees to hide the services from the outside world. It is less regimented than most MSA's- there is no central seating area, you can choose from several quite corners, or sit on the bridge (alongside the on-bridge Burger King). There are range of choices of food- including a Little Chef, and some coffee stands. The arcade is full of gambling machines, and the video machines are (unusually) sprinkled around the complex- although this maybe due to the refurbishments.
Noteable Features:
Peaceful, Clean
Flowers in the toilets (Yes-the mens)
Bureaux de Change
| | |
| --- | --- |
| Bridge Restaurant today- Fast food | Entrance, Little Chef and Money Exchange |